Some of Our Equipment: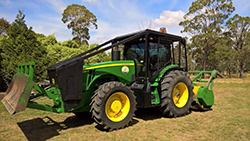 The Mulch Management's purpose built Mega Mulcher's use a John Deere 8345R 350 HP FWA Tractor fitted with an external roll cage for forest protection plus full undercarriage bellyplate protection. The tractor is fitted with a front mounted hydraulic blade, with hydraulic blade tilt for drainage works, tree removal and general clearing etc. This John Deere is the largest and most powerful non articulate tractor available.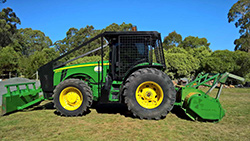 The tractor is fitted with a Seppi MaxiForst Mulcher with 225cm cut, designed to mulch trees and stumps to 50cm diameter. The trees can be on the ground or still standing as the mulcher has a tree pusher frame allowing trees to be cut off at ground level and then mulched once on the ground. The Mulcher is the largest Seppi mulcher available and it is fitted with swinging flails providing a fine mulch whilst coping with contamination like rocks. It is ideal for general vegetation clearing from standing trees (great for returning failed plantations to usable farmland) to forest waste to gorse mulching.

Tractor can also be fitted with rear mounted 155cm heavy duty, purpose built reach-arm slasher – with 7m reach – featuring left and right side operation, hydraulic outriggers, and capable of cutting trees to 30cm diameter.